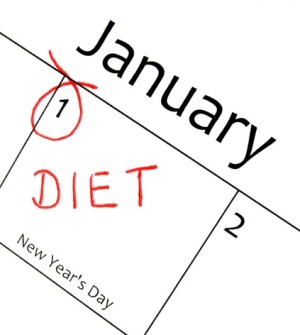 Why is it that ninety percent of people you talk to about their resolutions for the New Year, put losing weight high up on their list of things to do.
This is irrespective of if they need to lose weight or not.
Losing weight has always been something I want to do at the beginning of each year, but then as you know, life happens.
The diet that you start on January 01 usually lasts for a week or so until you fall back into your old eating habits.
By the time you realize that you have stopped dieting, you have gained ten or more pounds.
I think that what we need to do is not promise ourselves that we are going to lose weight; we need to promise ourselves that we are going to undergo a full lifestyle change.
To plainly lose weight is much easier than undergoing a lifestyle change. A change of lifestyle affects each aspect of your life, not just what goes into your mouth.
I love the fact that it is normally those people who don't need to lose weight, in my opinion, are the most vociferous in letting us know that they need to do just that.
I suppose if everyone was thin, the world would be a much healthier place, but come on, we are all "built" differently. Everyone has that "something" about themselves, no matter what their size.
And no; it is not just "He has an amazing personality!".